click to enlarge
Cannabidiol (CBD) is an active compound derived from the cannabis plant. Due to its purported health benefits, such as alleviating chronic pain, inflammation, improving sleep, and reducing anxiety, many people want to get their hands on CBD products.
The fact that CBD does not create the high associated with marijuana makes it a revered supplement everyone wants to try. Tetrahydrocannabinol (THC) is the compound responsible for the intoxicating effects.
For beginners, it may be overwhelming with the vast array of products available in the market. Some of the most common CBD products include:
CBD tinctures and oils are the most popular ways of taking CBD. The tinctures or oils come with a dropper to measure a precise dose. Experts recommend administering the amount sublingually — placing the drops under the tongue and holding for 60-90 seconds before swallowing. This allows faster absorption into the bloodstream via the mucous membranes. That's why CBD oils are fast-acting.
CBD gummies are the most discreet and fun way of consuming CBD. They are not only delicious, but users reap the benefits of CBD at the same time. The portability and the different flavors of CBD gummies make them an excellent choice for people trying CBD for the first time.
CBD capsules come in the form of softgels or pills infused with CBD. CBD capsules are pretty easy to dose since they contain a pre-measured dose of cannabidiol. However, they are slow-acting because they must pass through the digestive tract before making it into the bloodstream.
CBD topicals come in various forms ranging from creams, salves, lotions to moisturizers. CBD topicals are meant for localized pain and inflammation since users can only apply topically — directly to the skin.
CBD Flower are hemp buds that can be used as a vaporizer or a vape pen. While vaping is the most fast-acting way of taking CBD, it may not be safe since people can inhale carcinogens directly into the lungs.
When choosing the best CBD oils and CBD gummies, it is essential to note that CBD products come in three different types, including:
Full-spectrum CBD oil contains all cannabinoids, flavonoids, terpenes, and compounds present in the cannabis plant, including THC. All these compounds work together synergistically to produce the entourage effect. They are suitable for individuals who want to reap all the benefits the herb offers.
Broad-spectrum CBD contains all the compounds present in the cannabis plant except THC. Products containing broad-spectrum CBD also provide the entourage effect. They are ideal for people who want to reap the benefits of the plant without getting high.
CBD isolate is the purest form containing 99% CBD. During the extraction process, all other compounds are isolated, remaining with CBD. They usually come in powder form and are suitable for persons who want to consume unadulterated CBD.
How We Choose the Best CBD Gummies

We choose these CBD gummies based on the following:
Source of hemp: We all know that CBD is derived from hemp plants. However, the origin of hemp determines the quality of the product. Usually, hemp plants absorb anything in the air, which may end up in CBD oil.


For this reason, we choose CBD products that use organic hemp grown in the USA to manufacture their products.

Third-party testing: Since the CBD industry is not regulated, it is pretty easy to find substandard products in the market. That's why third-party testing is crucial. Products that have been tested by a third-party will give you an insight into whether the ingredients listed on the label are the same as the ones on the Certificate of Analysis (CoA). Also, showing you that they are free of pesticides and chemicals.
Extraction method: The extraction method used reflects the end product. They are ranging from CO2 extraction methods, solvent extraction, and olive oil extraction. Products manufactured using the CO2 extraction method are considered high quality because they do not contain any contaminants.
Ingredients: The ingredients present in CBD oils and CBD gummies are huge factors to consider. Gummies containing fewer sugars, vegan, gluten-free, and THC-free, might be suitable for anyone's needs.
THC content: The amount of THC in CBD products matters. According to the 2018 Farm Bill, all CBD products must contain THC content not exceeding 0.03%.
Most Affordable CBD oils and CBD Gummies

Over the past few years, CBD products have hyped, and the prices have surged due to this natural supplement's high demand. Finding a quality product at an affordable price is not easy. However, all is not lost. Blosum's CBD products have the best prices and guarantee quality.
Price comparison

When it comes to pricing, Blosum's CBD products have affordable prices. On average, CBD oil tincture would cost anything around $0.05 to $0.20 per mg of CBD. On the other hand, CBD gummies cost approximately $0.09 to $0.20 per mg of CBD. However, the prices may vary depending on the potency.
Trusted Brands

Finding a brand you can trust regarding the quality and pricing of health supplements can be overwhelming. However, Blosum CBD has established itself as a reputable brand with several positive reviews from previous customers.
It's important to keep in mind that no CBD products have been approved by the Food and Drug Administration (FDA) except for one. If you are worried about side effects, symptoms, or the effects of CBD, please consult your physician before taking cannabidiol.
Providing the best CBD oils and CBD gummies, Blosum is a perfect place to find all CBD products. CBD oils come in a wide range of flavors from cinnamon, lavender, and orange blossom. With these varieties, consumers can make a choice depending on their preferences and needs.
Some of the reasons why Blosum CBD is a trusted brand include:
all of its products are third-party tested for purity and consistency
non-GMO
organic hemp is grown in the USA
Our Choices

Here are two of Blosum's CBD products we have chosen:
CBD Gummies

Blosum CBD gummies are all-natural vegan gummies with no artificial flavor or colors and have a great taste. Each jar contains 30 gummies and comes in two potencies: 10mg and 25mg of CBD per gummy.
Besides, the gummies are available in full-spectrum and broad-spectrum. As mentioned earlier, full-spectrum contains all the compounds of the cannabis plant, while broad-spectrum also has all cannabinoids except THC. Both options provide the entourage effect.
The full-spectrum CBD gummies are available in three different flavors: strawberry, orange, and watermelon. Broad-spectrum gummies, on the other hand, are available in strawberry flavor.
CBD Gummies Vegan Full-Spectrum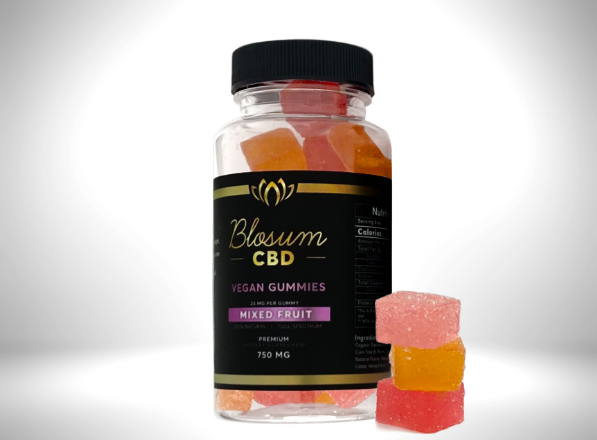 Price: Starting at $74.99
Strength: 10 mg or 25 mg
Flavor: Mixed Fruit (Watermelon, Orange, and Strawberry)
CBD brands like BlosumCBD's Vegan Full-spectrum Gummies have it all! These all-natural ingredient treats are not only delicious but beneficial for a better quality of life. Each of these full-spectrum gummies contains 0.3% THC, meaning you can get the full effects of benefits per dosage like the "entourage effect" because of the high potency. Blosum's Vegan Full-Spectrum Gummies are:
Grown in the U.S.
Third-party Lab tested
Vegan & Gluten-free

100% USDA Organic
Shop Now & Get 30% Discount using code "Weekly"
CBD Gummies Vegan Broad-Spectrum

Price: $74.99
Strength: 25 mg
Flavor: Strawberry
If you're looking for a great gift for beginners using CBD or are just hesitant on THC, look no further than BlosumCBD's Vegan Broad-Spectrum Gummies! These gummies are gluten-free as well as being vegan. Each of these broad-spectrum chewy treats contains zero THC, meaning you can still get the full effects of benefits like the "entourage effect" without the worry of consuming any THC remnants. Blosum's Vegan Broad-Spectrum Gummies are:
Grown in the U.S.
Lab-tested
Vegan & Gluten-free
100% USDA Organic
Shop Now & Get 30% Discount using code "Weekly"
Here are some quick pointers about Blosum's CBD gummies:
Available in two types: broad-spectrum and full-spectrum
Potencies: 10mg and 25mg of CBD per gummy
Variety of flavors
Vegan
Non-GMO
Gluten-free
CBD Oils

Pure CBD oils are the most popular forms of taking CBD. However, in the exploding industry, consumers can easily get spoilt for choice with many brands. Blosum CBD oil tincture is a formulation of hemp extract laced with a carrier oil, such as coconut oil, MCT oil, or hemp seed oil.
Unlike other alcohol-based CBD oil tinctures, Blosum's tinctures are oil-based. The manufacturer designed the oils both for beginners and veterans. They come in various potencies: 500 mg and 1000 mg of CBD full-spectrum oil with trace amounts of THC. Besides, people can choose from various flavors: lavender, cinnamon, and orange blossom.
BlosumCBD's Oil Tinctures

click to enlarge
Price: Starting at $74.99
Strength: 500 mg or 1000mg CBD oil
Flavor: Cinnamon, Lavender, or Orange Blossom
Here are some quick pointers about Blosum's CBD high-quality CBD oil tincture:
Oil-based tincture
Full-spectrum CBD
Contains natural flavors
Potencies: 500mg and 1000mg CBD
100% organic
Shop Now & Get 30% Discount using code "Weekly"
Verdict

When looking for the best CBD oil brands and CBD gummies, it is vital to go for products that have undergone third-party lab testing and are of the best value. Besides that, be sure to know the source of hemp used, extraction method, and the ingredients present. Overall, Blosum's CBD products are of high quality at affordable prices. This post was sponsored by LeadAdvisors.net