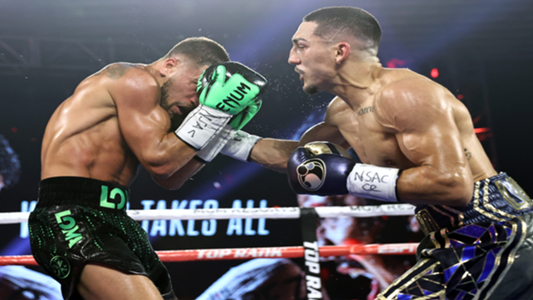 "The Takeover" has officially taken over.
Teofimo Lopez Jr. scored a shocking unanimous decision victory over Vasiliy Lomachenko to snatch the WBA, WBC Franchise and WBO lightweight titles and add the hardware to his own IBF crown Saturday night. Judges at the MGM Grand conference center in Las Vegas had it 116-112, 119-109 and 117-111 all in favor of the 23-year-old Lopez, who became the youngest four-belt champ in boxing history. DAZN News had it 116-112 in favor of Lopez.
Lopez (16-0, 12 KOs) completed the Takeover, and he didn't even need a power display to do it. He outboxed Lomachenko (14-2, 10 KOs), who entered the bout widely regarded as the best pound-for-pound boxer in the sweet science.
With Lomachenko pouring it on late, Brooklyn native Lopez used a power surge in the 12th round to make sure his brilliant boxing earlier in the fight wouldn't be wasted. He banged Loma to the body — as he did for the first half of the fight — and hurt the former unified champ with a hard right.
If anything, it was a punctuation for Lopez, who outboxed arguably the best boxer in the world behind the jab and a constant body attack over the first six rounds. He banked at least five of those rounds to establish a sizeable lead and early dominance. Patient, Lopez didn't give into the temptation of resorting to his dynamic knockout power.
Although Lopez showed fatigue in the middle and late rounds under precise punching by Lomachenko, he refused to let up, especially in the 12th when he stood his ground and produced enough to snatch Loma's titles.
Devin Haney's WBC title marks the missing piece if Lopez wants to go for undisputed lightweight glory. For now, however, it's apparent that Lopez has cemented his growing legacy.
"It's the Takeover," Lopez said on ESPN after the bout. "It's time for the new generation to come up."
Here's how the Lopez vs. Lomachenko card went.
Teofimo Lopez Jr. outboxes Vasiliy Lomachenko to take WBA, WBO lightweight titles
(All times Eastern)
12:48 a.m.: The scores are in and Teofimo Lopez Jr. is declared the winner by unanimous decision (116-112, 119-109, 117-111). He adds the WBA, WBC Franchise and WBO lightweight world titles to his IBF crown.
Round 12: Lopez digs a shoulder into Loma's chest and blasts a right hand across the jaw. But Loma comes back with straight left and right hands. Lopez lands a big right hand, but Lomachenko fires a combo seconds later. Crunching body shot from Lopez. "The Takeover" wants it bad. Left and right lands for Lopez. He hurt Loma with that right and then adds a big left for good measure. Accidental head-butt has the ref checking on the cut above Lopez's eye. A previous head-butt caused that cut. Big power surge from Lopez to end the round and fight. I have Lopez winning it. Let's see how judges score it. (10-9 Lopez, 116-112 Lopez)
Round 11: Loma rakes a left across Lopez's jaw, but Lopez eats it. Loma is pouring it on thick with crisp, accurate punches. He pops Lopez's head back with a straight right seconds later. Is Lopez winded? He looks fatigued and has a bit of swelling around his eye. A short left hand lands for Loma. The unified champ is coming on strong in his best round of the night. Left hand to the body lands for Loma. He seemingly hurt Lopez there. But Lopez comes back with a right. Lopez is tired, but he moves forward and plants a right on Loma's chin. A good finish of the round by Lopez, but Lomachenko takes the round. (10-9 Lomachenko, 106-103 Lopez)
Round 10: Lomachenko is doing whatever it takes to get inside and close the gap, but Lopez is standing his ground. Lopez should go back to the body, as he has inexplicably abandoned that attack last few rounds. A quick surge from Lopez, but Lomachenko answers back with stinging shots. Stiff, crisp left hands land for Lomachenko now. Very precise. Right hand to the body lands for Lopez. Moments later, Lopez lands a crunching body shot at the belt line. The ref pauses the action and warns Lopez about hitting too low. That was a close round, with the slight edge to Loma. (10-9 Lomachenko, 97-93 Lopez)
Round 9: Lopez greets Loma with a hook coming out of the corner. A good combination from Lomachenko, but Lopez counters with a combo of his own. Lopez opens with a lead left uppercut and keeps flicking the jab to follow. Lomachenko showing more desire, but enough to take this round? No, because Lopez answered any burst of offense that Loma showed. (10-9 Lopez, 88-83 Lopez)
12:30 a.m.: Loma's urgency is really picking up here, as it should.
Round 8: Fighters exchange brief fire with Lopez getting the better of it. Lomachenko has to close the distance. The ref warns Lomachenko about headbutting. Right hand from Lopez seconds later. Lopez with two lefts and a right that splits the guard. But Loma returns fire with a stinging shot and he's stepping to Lopez now. Lopez back with a right hand. The action is picking up considerably now. Lomachenko is letting loose. But Lopez fires back with a stiff right jab. And another jab lands moments later. The best round of the fight thus far. (10-9 Lomachenko, 78-74 Lopez)
Round 7: Loma punches in the clinch, but Lopez is back to pumping the jab. A left-right combo brushes Loma back as Lopez presses forward. The left to the body from Lopez is a real weapon this fight. Lopez is outboxing Loma and he's doing it with smarts. Loma closes the gap and lands a quick shot. Lopez just misses upstairs, but he takes this round, too. (10-9 Lopez, 69-64 Lopez)
Round 6: Lopez rocks the body and just misses a head shot. He unloads a right hook to the head that Lomachenko just manages to avoid. Loma is more active this round, but Lopez is still walking him down and picking his shots behind the jab. Loma lands a short left hand but Lopez returns fire with a hook. A left-right hook to the body lands for Lopez. And another left to the body lands for Lopez. Uppercut and right hand for a solid end of the frame for Lopez. When is Lomachenko going to pick up the urgency? Lopez is banking rounds. (10-9 Lopez, 59-55 Lopez)
Round 5: Lopez looks to be in firm control and he's doing it with boxing skills and patience. He flicks the left jab and lets loose with a right hook. Another body shot follows off a big right hand. Loma is keeping his body exposed and Lopez is taking advantage. Lopez digs into the body yet again after attempting a shot upstairs. (10-9 Lopez, 49-46 Lopez)
Round 4: Lopez comes out with the jab, trying to establish and work behind the punch. Lopez is boxing very well so far. Lopez bangs the body and then lands a left. He adds an uppercut as well and goes back to the body seconds later. He plants two rights for good measure. Another solid round of work for Lopez. (10-9 Lopez, 39-37 Lopez)
Round 3: Lopez lands with a sweeping right hook to the body and adds a left hook for good measure. A left to the body lands for Lopez as well. Lomachenko is changing levels and trying to bait Lopez, but the younger champ is remaining poised. A crunching body shot lands for Lopez, but Lomachenko returns fire with a combination. Lopez takes the round. (10-9 Lopez, 29-28 Lopez)
Round 2: Lopez shooting the jab and using it to lunge toward the body with his next punch. Left hook and then a right hand drives Lomachenko back a bit. The unified champ felt Lopez's power there. Visible redness on the right side of Loma's body. Lopez keeps digging to the body with his right. But Loma returns fire with a stinging left and it got Lopez's attention. Loma did split his guard late in the round as well with a lightning-quick combo. (10-9 Lomachenko, 19-19)
Midnight: Lopez probably surprised many with his patience that round.
Round 1: Lopez sticks a right hand into Lomachenko's midsection to start. Now he's pumping the jab as Lomachenko computes. Lopez pieces together a combination that bounces Loma off the ropes, although the unified champ was largely unscathed. Lopez walking Loma down here. Loma patient as can be, analyzing in real time. Lopez sticks another right hand to the body and adds a left jab moments later. A lot of jabs from Lopez early. Lopez was pretty calculated early, as he didn't come out unloading with power shots as many probably thought he would. (10-9 Lopez)
11:55 p.m.: Seconds away … here we go!
11:51 p.m.: And here comes the unified champion, Vasiliy Lomachenko. Champ vs. Champ … winner takes all.
11:50 p.m.: An ultra-confident IBF lightweight champ, Teofimo Lopez, comes out bopping his head to the sounds of "Another One Bites the Dust."
11:45 p.m.: The most highly-anticipated boxing bout of 2020 to date is upon us just moments away.
Co-main event: Arnold Barboza Jr. edges Alex Saucedo by unanimous decision in solid showing; Junior welterweight
11:34 p.m.: The scorecards are in, as it's 96-93, 97-92 and 97-92 all in favor of Barboza. A well-deserved victory, as Barboza improves to 25-0.
Round 10: Barboza snapping Saucedo's head back with some crisp jabs. Saucedo lands a right and Barboza returns fire with a hard right of his own. Barboza is still moving well and punching while doing so. He's a crisp, accurate boxer. Solid showing from both, but Barboza should take this one, as we wait for the judges' scorecards. (10-9 Barboza, 96-93 Barboza)
11:30 p.m.: Barboza can really be a problem in this division. There's no doubt.
Round 9: Barboza lunges forward with a left, while ripping the body with a right hook moments later. When Barboza is moving and staying outside, he's in complete control and Saucedo has zero answers for him. Barboza hit Saucedo with an elbow during one of their exchanges there. Another round for Barboza. The 10th and final round next. (10-9 Barboza, 86-84 Barboza)
Round 8: The official review rules that Saucedo did indeed score a knockdown of Barboza, giving him the 10-8 round for the seventh. Yet, Barboza enters the eighth and looks to be back in control behind the jab and a continued high work rate. Saucedo isn't moving his head at all and Barboza is feasting with punches because of it. (10-9 Barboza, 76-75 Barboza)
Round 7: Barboza goes back to the jab, as he works behind the punch to open up more offense. He's fighting a great fight. Just as that's said, Saucedo drops Barboza with a left! But it's ruled a slip and he's right back on his feet. This can be reviewed and changed under the new Nevada State rule. Let's see if that gets changed to an official knockdown. Certainly looked like one. (10-8 Saucedo, 66-66)
Round 6: Saucedo connecting on more shots early on. And they're thumping blows. A left from Barboza slightly rocks Saucedo back. However, Saucedo responds with some crunching body shots. (10-9 Saucedo, 58-56 Barboza)
Round 5: Saucedo is definitely committed to hanging tough in the pocket, but he's eating a lot of shots for doing so. Barboza is in a nice groove right now, working behind the jab. A right-left drives back Saucedo's head briefly with under a minute left. Both fighters trade more shots over the final 30 seconds. (10-9 Barboza, 49-46 Barboza)
Round 4: Saucedo doing a better job of moving around and keeping Barboza off balance early in this round. The work rate of each fighter is spectacular. Barboza is doing a solid job of digging his shoulder into Saucedo's chest and firing off shots behind it. A heavy-duty right hand lands flush for Barboza and that could've very well been the deciding factor of this round. (10-9 Barboza, 39-37 Barboza)
Round 3: Barboza is the more accurate boxer, but Saucedo seems to be bringing more thunder with his shots. Barboza now digging to the body, before going back upstairs with a two-piece combination. The back and forth trading of leather and pace is fantastic, with Barboza getting the slight nod in this frame. (10-9 Barboza, 29-28 Barboza)
11:00 p.m.: OK, we're only two rounds in, but this co-feature has all the ingredients of being a war with the way these two are trading leather. Why? Well, they landed a combined 201 punches in the second round. Outrageous.
Round 2: Replay shows a headbutt from Barboza caused the bleeding from Saucedo's nose in the first round. Early here in the second frame and Saucedo has re-connected with that left hook. It's a weapon for him tonight. He's digging in with uppercuts through Barboza's guard, but Barboza is fighting back. Both fighters now splitting each other's guard. Barboza is inexplicably going southpaw and Saucedo is making him pay when he does. Saucedo got Barboza's attention with a right hook late. (10-9 Barboza, 19-19)
Round 1: Barboza stepping out in the southpaw stance. That isn't stopping Saucedo from bringing pressure from the opening bell. He's connecting on some hard shots behind the jab already. Left hook lands flush for Saucedo. That being said, blood from the nose of Saucedo. Not that it's stopping him from moving forward. Commentators note that Saucedo is a bleeder. Solid first round of action. (10-9 Saucedo)
10:50 p.m.: Lengthy delay, however, Saucedo and Barboza have just been introduced and this co-feature is about to start.
10:30 p.m.: The co-main event, pitting Alex Saucedo vs. Arnold Barboza Jr. in junior welterweight action, is next.
10:23 p.m.: Rap legend Fat Joe is thrilled over Berlanga's performance.
Edgar Berlanga flattens Lanell Bellows via first-round TKO; Super middleweight
10:18 p.m.: Edgar Berlanga is a bad man! Make that 15 straight first-round knockouts to start his pro career. Berlanga rocked Bellows with a thudding left hook to the head that was thrown with bad intentions. Bellows was badly dazed, before Berlanga unloaded two more left hooks moments later to add to the punishment. The ref stepped in and ended it right there. Sheesh.
10:10 p.m.: Berlanga is 14-0 with 14 first-round KOs. Let's see if he could extend that streak tonight.
10:00 p.m.: Judges just scored 98-91, 100-89 and 99-90 all in favor of Josue Vargas over Kendo Castaneda to end the undercard. The Vasiliy Lomachenko vs. Teofimo Lopez Jr. main card is up next, beginning with Edgar Berlanga vs. Lanell Bellows in super middleweight action.
Lomachenko vs. Lopez main card
Teofimo Lopez Jr. def. Vasiliy Lomachenko to take Lomachenko's WBO, WBC Franchise and WBA lightweight titles
Arnold Barboza Jr. def. Alex Saucedo by unanimous decision (96-93, 97-92, 97-92); Junior welterweight
Edgar Berlanga def. Lanell Bellows via first-round TKO; Super middleweight
Lomachenko vs. Lopez undercard
Kendo Castaneda vs. Josue Vargas; Junior welterweight
Jose Enrique Durantes Vivas vs. John Vincent Moralde; Featherweight
Jan Carlos Rivera vs. Quinton Randall; Welterweight
Jahi Tucker vs. Charles Garner; Welterweight