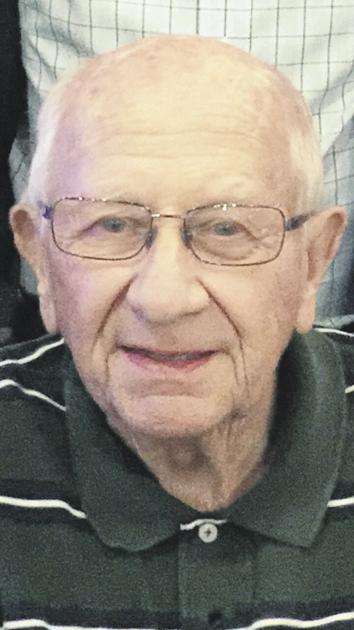 BOBBY JOE JARVIS, loving husband, father, grandfather and great grandfather passed on Sat. October 17, 2020 at CAMC – Teays Valley, one month shy of his 91st birthday, which he would have celebrated on November 9. Bobby led a faith and family centered life.
His marriage of 66 years to Patricia Browder Jarvis was full of love and devotion, as evident of Pat's attentive care through Bobby's final years. Also left to cherish his memory are his daughter Cindy and son-in-law Mike of Scott Depot and son, Rob and daughter-in-law Jennifer of Nitro. The joys of his life were his grandchildren: Bobby (Linsay) Johnson, Bree (Ryan) Lemmon, Taylor Jo Johnson, Adam, Matt and Libby Jarvis. He adored his two great granddaughters; Presley and Parker Johnson and two due to arrive in the spring, who he celebrated in the days before his hospital stay. He also leaves a brother-in-law Jack (Ann) Browder and several nieces and nephews. Bob was predeceased by his parents: CA Jarvis and Bessie Ramsey Jarvis, his inlaws who he loved: RC and Hattie Browder, granddaughter Brooke Lauryn Johnson and sister, Patricia Jarvis Shafer.
Bobby graduated from Stonewall Jackson High School in 1949, where he was Class President for two years. He attended Morris Harvey College then served in the US Navy, where he was stationed at Great Lakes, Illinois and Deep Creek, Maryland. He had 20 years of service with Columbian Carbon-City Service. He was an Accounts Payable Manager for Heck's for 22 years and 12 years as Office Administrator at Charleston Medical Group before retiring in 1994, when he worked for A.L Williams.
Bobby joined St. John United Methodist Church when he and Pat moved to Hurricane. Previously, he was a member of Highlawn Baptist Church for over 40 years, where he served as a Trustee, Deacon, Sunday School teacher, on the Finance Board and in the Men's Fellowship Group. Before that, he served as a Treasurer and Sunday School Superintendent for Highlawn Church of God. He also was involved in his Community, most notably as a Little League Coach for over 15 years.
The Family would like to thank the staff of the ICU Unit and Kelly Tinsley of CAMC-TV and his Hospice nurses. They are grateful to Dr. Gregory Harrah and Dr. Samuel Carroll for their dedicated care through the years. Also a sincere thank you to Megan Witt for her love and devotion, as she cared for him in his final months.
A Celebration of Life Service will be held on Tuesday October 20, 6:30 p.m., at St. John Methodist Church. The CDC's guidelines will be observed at all times with masks and social distancing. No visitation will be held. The family urges persons at risk to express their condolences by email to [email protected] or [email protected]
In lieu of flowers, the family requests donations be made to St. John United Methodist Church at 4536 Teays Valley Rd. Scott Depot, WV 25560 or to the Salvation Army. As a final act of love, Bobby has donated his body to the Marshall University School of Medicine Human Gift Registry.