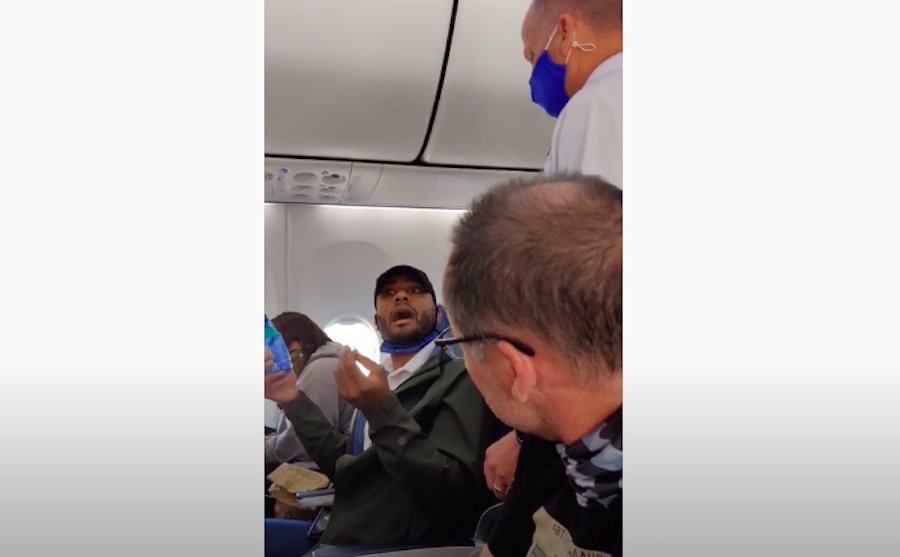 Donald Trump Jr. on Tuesday slammed a "disgusting" video that showed a Black man in pro-President Trump gear being kicked off a Southwest flight for allegedly breaking the airline's mask policy.
"WTF??? This is disgusting," the first son tweeted to his nearly 6 million followers. "I've been on a thousand flights in the last few months and everyone lowers their masks to eat and drink. I did it on a Southwest flight earlier this week."
---
The video, filmed by conservative activist and lawyer KrisAnne Hall, showed the passenger she identified as Philip Ndifon wearing a "Black Voices for Trump" hat and a "Trump 2020" mask down below his chin while a member of the Southwest Airlines crew informed him he would have to deboard, Newsweek reported.
"They said if I'm actively eating—" Mr. Ndifon tells a crew member in the video.
"The crew does not want you on this flight," the crew member responds.
Mr. Ndifon tells the crew member that he lowered his mask to eat and had put it back on after others had instructed him.
In the video, Ms. Hall repeatedly asks for the crew to clarify their mask policy as it applies to eating and drinking on the plane.
"I am not discussing it with you," the crew member tells her.
He then threatens to call the police on Mr. Ndifon if he does not exit the plane.
At one point in the video, another passenger comes to Mr. Ndifon's defense, telling Ms. Hall: "He did cooperate. I was sitting right here."
Southwest said in a statement that the man, who was on a plane due to depart from Tampa to Dallas, was put on a later flight after providing "assurances he would comply" with their mask policy.
"Our reports indicate that a customer traveling on Flight 2632, with scheduled service from Tampa to Dallas, was asked repeatedly by more than one employee at different times to wear a face mask," airline spokesman Chris Mainz told Newsweek in a statement. "The customer did not comply with our crew's multiple verbal requests — including while boarding the flight before seated.
"We communicate this policy to all customers at multiple touchpoints throughout the travel journey including during booking, in a pre-trip email sent prior to departure, and during a required acknowledgement that's part of the Customer Health Declaration Form which appears during the check-in process," he added.
Ms. Hall told Newsweek she believes Mr. Ndifon was targeted because of his politics.
"Philip was a complete gentleman and complied with all their requests and policies," she said. "I have been flying Southwest regularly for over a decade. I have never experienced such targeting by a Southwest employee."
[embedded content]