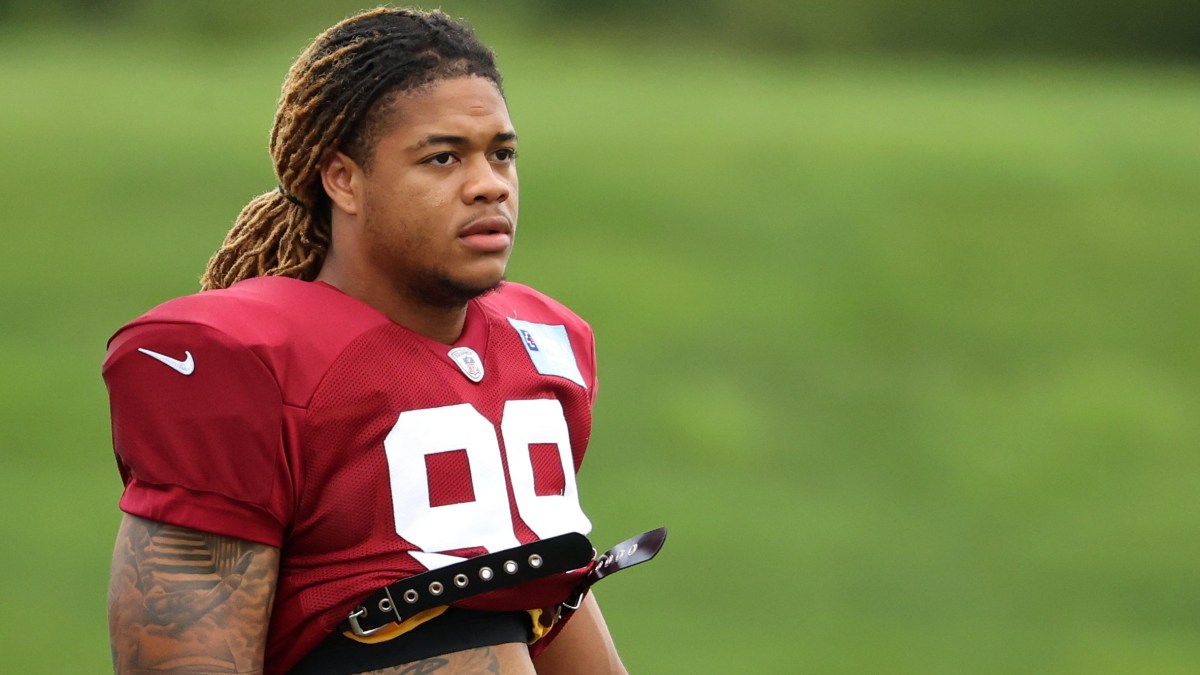 Why Peter King doesn't think Chase Young will win DROY originally appeared on NBC Sports Washington
Entering the 2020 season, Washington pass rusher Chase Young is the clear and obvious favorite to win Defensive Rookie of the Year.
Young, the No. 2 overall pick, was considered a generational talent coming out of Ohio State by many draft experts. He led college football in sacks (16.5) last fall, despite missing two games due to suspension. Young won almost every defensive award he was eligible for and the 21-year-old was even invited to New York as a Heisman Trophy finalist.
NBC Sports' Peter King is one of the most respected analysts in the business, as he has covered the NFL for decades. However, in an interview with NBC Sports Washington's Jordan Giorgio (the full interview will air on Washington Football Kickoff Live Sunday at 10 a.m. on NBCSW), King said he didn't pick the talented Washington rookie as his winner for the award.
"Rookie of the Year depends on things like sack totals, forced fumbles and all that stuff at that position," King said. "I didn't pick him as my Rookie of the Year, but it wouldn't surprise me."
While King's decision to forego Young for the award may anger some Washington fans, the analyst's reasoning as to why he believes the award will go to someone else is nothing that has to do with Young himself.
"The reason I didn't pick him, because, in my opinion, this is going to be a defense and defensive front where I think the greatness is going to be spread around," King said.
Young joins a defensive front in Washington that was already the most talented position group on the team, even before his arrival. The team has four other former first-round picks along the front, and that doesn't even include Matt Ioannidis, who was the team's sack leader from a season ago.
Washington used its first-round pick in 2019 on pass rusher Montez Sweat as well, and he showed tremendous progress towards the end of the season. Of course, you can't mention Washington's pass rush group without bringing up Ryan Kerrigan, who has the fourth-most sacks across the NFL since he entered the NFL in 2011.
"For the sake of this franchise, I thought it was a great thing that they didn't get rid of Ryan Kerrigan," King said. "I still think he has some good football in him. And obviously Montez Sweat, we'll see what happens with him. But he had some promising performances as a rookie. So, we'll see what exactly happens."
With all the talent across the defensive front, King just thinks the success of the group will be because of multiple guys, rather than just one.
Still, King believes Young landed in a great situation, and says the 21-year-old pass rusher will have an impact as a rookie even if he doesn't win the award.
"I think Chase Young is in a great defensive front to have a chance to succeed," King said. "In my opinion, he went to the best team at the top of this draft. Of all the teams high in this draft, he went to the best team that he could have."