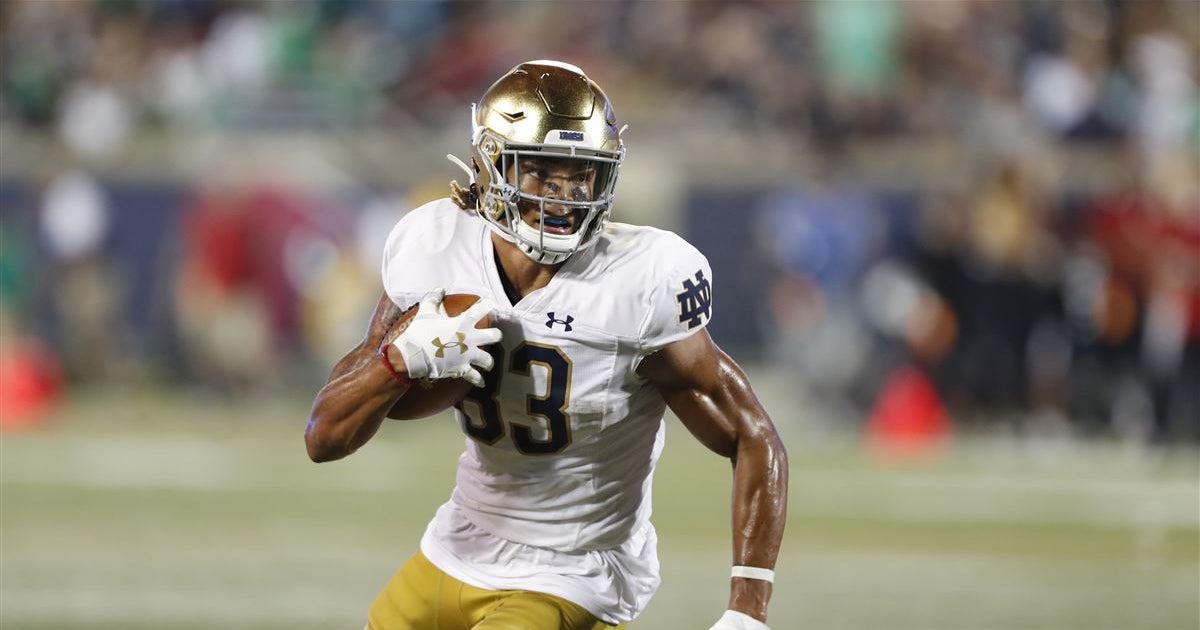 Following an impressive senior campaign at Notre Dame, Chase Claypool turned heads at the NFL Combine and wound up as the Pittsburgh Steelers' top pick in the 2020 Draft. Entering the second week of full-contact practice, the 6-foot-4, 230-pound rookie continues to turn more heads in training camp.
No wide receiver in the 2020 NFL Draft pool boasted Claypool's combination of size and athleticism. At the combine, Claypool became the first receiver to run a sub-4.45 40-yard dash at 6-foot-4, 235 pounds since Calvin Johnson. He ran a blazing fast 4.42 40-yard dash, posted a 40.5-inch vertical, and bench pressed 225 pounds 19 times.
Now with Claypool running routes in practice, the Steelers are beginning to see the benefits of implementing the No. 49 overall draft pick in their passing attack. According to several of his new teammates, the former Fighting Irish star is going to be a real headache for opposing defenses.
Last week the Steelers tweeted a clip of Claypool making a leaping catch from quarterback Ben Roethlisberger in the endzone, to which, Steelers cornerback Joe Haden responded with his input. The three-time Pro Bowler tweeted, "He's going to be a PROBLEM! You heard it first from me!"
On Thursday, Steelers tight end Eric Ebron reiterated Haden's comments, praising the rookie after practice. "Today showed me @ChaseClaypool will be a PROBLEM in this league. #Big Stepper," Ebron tweeted.
With Claypool generating positive buzz out of camp, certain experts and scouts are rejoicing. Among them is NBC Sports analyst Chris Simms, who also happened to share an NFL comp for the former Notre Dame star.
"Love the buzz on Chase Claypool from Steelers camp," Simms wrote. "Very few wide receivers I've ever seen look like he does with the physical ability that he has. Built like Brandon Marshall, but faster and more explosive. Superstar potential."
"Let's be clear, prime Brandon Marshall was the best wide receiver I ever played with," Simms added. "Chase Claypool has the talent, now we'll see if he capitalizes on it to reach Marshall's level."
The top player in Canada in the 2016 class, Claypool was the No. 33 wide receiver and No. 172 overall player in the 247Sports Composite. He played as a true freshman at Notre Dame, catching five passes for 81 yards before growing his production in every season with the Fighting Irish. A 29-catch, 402-yard, two-touchdown season followed his sophomore year, with him catching 50 balls for 639 yards and four touchdowns as a junior.
But his best season came in his final one in South Bend, when he snagged 66 passes in 13 games, scoring 13 times and topping the 1,000-yard mark with 1,037.
"What they're getting with him, in their eyes, is a sized deep receiver," said former NFL GM Charley Casserly on Inside Training Camp on NFL Network. "He's a sized, deep receiver because of his size and not necessarily because of his speed. He ran 4.43 at the Combine but when you watch the tape, it's a 4.55 guy. He's a big, physical guy that's going to win matchups down the field. The immediate impact is going to be in the running game as a run blocker. He's excellent there and a good special teams player. In their eyes, he's going to have a role every week along with JuJu (and the other receivers)."