Click here for our Online Store!

|


|

(504)525-4691

[email protected]
The popularity of interior murals has soared in recent years. From restaurants to offices to homes,
painted images, phrases and effects have become a substantial part of our work.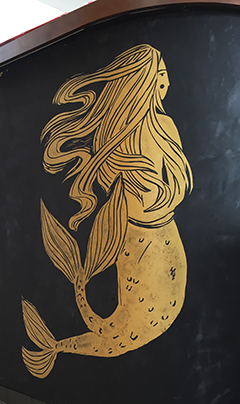 Mystic Blue Signs designed and painted a series of inspirational phrases in classrooms at Isidore Newman Middle School
(prints of some of these quotes are available in our online store).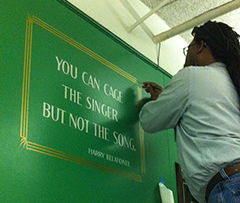 No project is too small to interest our artists.


(504)525-4691
Studio/Gallery Hours:

Tues to Fri … 10:30am-5pm
Sat ……………. 10:30am-3pm
Sun & Mon …. CLOSED

Center News: Be Safe!
Art for Arts' Sake
Mystic Blue Signs will celebrate 20 years on Magazine Street for Art for Arts' Sake, Saturday, October 7th from 5-9pm with a gallery show of new and past
work. There will also be live music.

Font Club
Font Club will have a Zoom video conference meeting on Saturday, September 19, 2020 at 3pm by video conferencing. We will have a work session on type design. We meet the 3rd Saturday of every month.
For info: call Vince or Yvette at (504)525-4691
<!–We usually have a presentation followed by a work session designing,
scanning and importing glyphs into FontLab or Fontographer to create a typeface.
Fontlab font editors
To see more information about Fontlab or Fontographer visit
Also for webinars and more go over to Fontlab's
–>

AIGA New Orleans
Graphic design info and events www.aiganeworleans.org
Visit
www.aiganeworleans.org for graphic design info, events, and meetings in New Orleans.–>
NOLAA
New Orleans Lettering Arts Association has workshops in a variety of calligraphy techniques www.neworleanscalligraphy.org
The New Orleans Lettering Arts Association (NOLAA) meets
on the 2nd Saturday of the month. A non-profit organization whose monthly meetings
are mini-workshops in a variety of calligraphy techniques, well worth the $25 per year membership fee.
Visit www.neworleanscalligraphy.org
New Orleans Academy of Fine Arts
NOAFA offers art classes including calligraphy www.noafa.com
The New Orleans Academy of Fine Arts offers classes in all styles of art-making, including calligraphy.
Located at 5256 Magazine St., call (504) 899-8111 or visit www.noafa.com
<!–

–>
©2020 Mystic Blue Signs tel: (504)525-4691 email: [email protected]
Webdesign by ESP: Espèce d'Idiot Productions